Be one step ahead of those pesky mites this summer with 10% off the Johnsons 4Fleas range.
For the whole of June, we are offering a 10% discount on the Johnson's 4fleas collection, located on the pink stand in the entrance to our pet department. The collection includes the popular Spot-On pipettes for kittens and cats up to 4kg, cats 4kg and over, puppies, dogs 4-10kg, dogs 10-25kg and dogs over 25kg.
This treatment can be applied to the skin between the shoulder blades of your pet and will get to work killing fleas on contact, whilst preventing an infestation for 4 weeks.
If you're really determined to banish the wretched termites, you can use the Spot-On treatment alongside the tablets in the 4fleas collection, which can be found in packets of 3 or 6 with the same pet and weight availability as the Spot-On treatment. The tablets start killing fleas in just 15 minutes and unlike the Spot-On treatment, leave no residue on the coat of your pet or in your home.
If your pets are anything like ours, you will need to use a little deception to get them to take the tablet. You can disguise the tablet with their favourite food (we use cheese) so they won't know a thing!
Now, you've treated your pet for fleas and protected them against future infestations, but don't end the battle there! It is extremely important that you treat the environment i.e. your home! An adult flea lives on the pet, shedding eggs which are deposited on the environment around the pet e.g. the house, pet beds, the car, anywhere the pet goes. These eggs hatch into larvae which pupate, forming a hard shell before hatching into adult fleas. These fleas then wait until they sense the heat or vibration of a pet (or person) and hop on!
While the Spot-On and Tablet treatments are effective at tackling adult fleas on pets, they do not target the flea at any other part of their life-cycle or in the surrounding environment. The Household Spray and Room Fogger both contain Insect Growth Regulator (I.G.R), which targets at the egg and larvae stage to prevent development into an adult flea.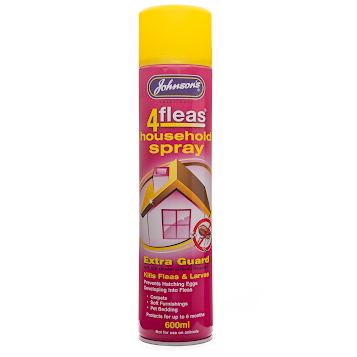 If you are really struggling with a flea infestation, we recommend that you wash your pet beds on a high temperature and spray your home and car each month for 3-6 months to catch any emerging fleas. You can also comb your pet with a flea comb, dipping it in an apple-cider vinegar solution to remove any fleas caught. If you have a carpet cleaner, or can borrow one, this is also a really effective way to rid your home of any pupating larvae.
An adult flea can lay 50 eggs a day, and from egg to adult flea, the cycle takes around 3-4 weeks, so it's no wonder it can feel like a never ending battle. But you can get a jump on a flea infestation by regularly treating your pet and crucially it's environment! Make the most of our 10% discount this June, and don't hesitate to ask for advice if you are struggling with an infestation.
We're here to help!