St. Eval have recently introduced their new collection of candles: Love Hope & Freedom. 
On it's own, the Love Hope & Freedom collection is beautifully designed and full of colour, each tin candle would brighten any shelf or table display in need of a lift, not to mention the gorgeous scent. Even more pleasing is knowing that when you purchase a candle, St. Eval will donate £1 to the anti-slavery charity, Unseen.
Falmouth University joined the collaboration when their third-year BA (Hons) Illustration students were tasked to design the labels for the tins that house the candles. The brief was to incorporate the simplicity of St. Eval with the important charity connection. The result were three vibrant and heartening designs which reflect the value of the commendable charity wonderfully.
Unseen are a UK anti-slavery charity that provides safe houses and support in the community for survivors of trafficking and modern slavery. The collection was created to support the inspiring work that Unseen do to eradicate modern slavery and help those whose lives are affected. St. Eval have said that they are proud to be working in partnership with Unseen towards a world without slavery and an end to child exploitation.
The money raised can support Unseen in transforming the lives of those most vulnerable. Here are just some of the ways this money will help:
£13 could provide a week's worth of warm nourishing food to a safe house resident
£19 could pay for a career session to help a survivor develop confidence and become job-ready
£26 could pay for phone calls home to loved ones, letting them know they're safe
£40 could pay for a specialist trauma counselling session
£50 could train a frontline professional to spot a potential victim of slavery and provide crucial support
£95 could pay for a photography workshop for 5 survivors, building self-esteem and providing escapism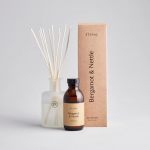 You can find the Love, Hope & Freedom collection in our shop, along with a few other pieces from St. Eval.
We recently acquired this Cornish candle supplier after their sustainable approach to creating stylish, quality candles caught our eye. Born in a family farmhouse kitchen, they strive to keep artisan methods and traditions alive. Another goal of theirs is to 'tread softly' on the earth, which lines up with our own ethos to take the route towards a greener, more sustainable way of operating. In fact, St. Eval was awarded a Queen's Award for Enterprise in Sustainable Development in 2021, partly earned by their use of sustainable energy via wind, solar and biomass, and plastic free packaging.
Let us know what you think of their products by snapping a photo of your St. Eval candle or diffuser, and tagging our Facebook or Instagram pages.